Recent Yacht and Boat Repair Projects
Rescued, resusitated and resurrected from the scrapheap; Mk4 Marten Finn now owned by the NZFA and ready for anyone who wants to try Finn sailing.
Mast fell over and ripped the top and bottom mast bearing support structures out, together with the sides of the forward buoyancy tank. Reinstalled bottom mast bearing support structure. Laminated new buoyancy tank sides, refurbished bottom mast bearing and installed new top mast gate and bearing in the deck.
Makeover for 20 year old Devoti Finn. Removed fittings, cut and polished deck plus cockpit ready for installation of modern centre cleating mainsheet block. Installed control rope cleating fittings, to customer specified layout. Removed and replaced flooring anti slip mats
Finn foredeck and mast deck collar ripped apart after the mast base plug split from the mast and caused considerable damage. Made and installed new mast deck collar slide, machined new mast collar and spacers, repaired hole in the side of the hull and then filled, faired and painted deck and hull.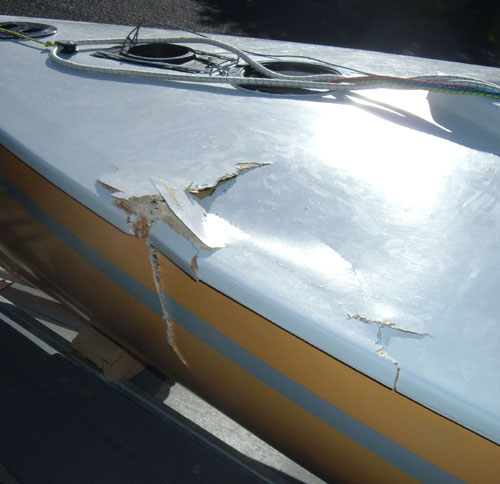 Port/Starboard incident crash damage, follow the repair project.
Bottom gudgeon repair on Starling yacht, carbon fibre rudder stock.
Fabricated and installed new carbon fibre thwart and traveller track to replace broken parts.  
Worn out OK dinghy rebuilt to like new condition, including new bottom mast adjuster, reglassing all bulkheads where broken free from hull and deck, installing tube drainage from front tank to cockpit, new adjustable top mast bearing structure, installation of foam stringers to stiffen boat, filling and fairing hull bottom.

Complete repaint and installation of all new deck gear.
Marten Mk3 Finn modernisation.

Installed stringers to stiffen the hull, reshaped side tanks for helmsman comfort, installed moveable mast deck ring structure, reduces hull weight by 5kg through removal of unnecessary bog, resin and cloth, restrengthened key hull stress points with carbon fibre, replaced heavy front deck with light weight fibreglass layup.

Finished hull prior to painting can be viewed on Yacht and Boat Repairs title page.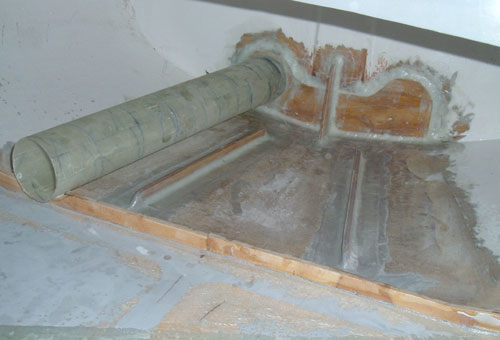 Updated Mk2 Marten Finn. Rebuilt transom, installed new cockpit dump tube, new rear cockpit bulkhead, new floor stringers to stiffen hull, new mast sliding deck collar set (as per below) and removed gelcoat from hull and deck to reduce weight.