Custom Components Fabricated Recently
Important -- These examples of our recently fabricated custom components are not for sale. The intelectual property rights belong to our customers and as such are not able to be onsold by us.

Should a custom designed component be required please contact us directly after reviewing our Component Design Process Information. Products that are for sale can be found in our Finn Shop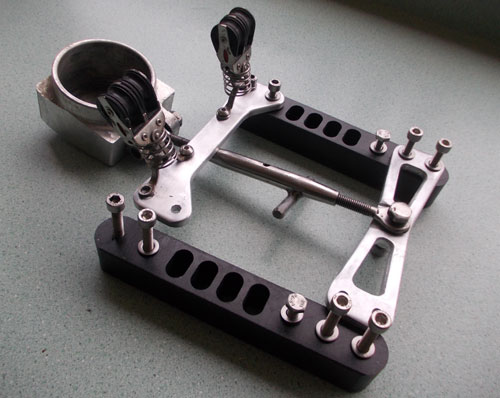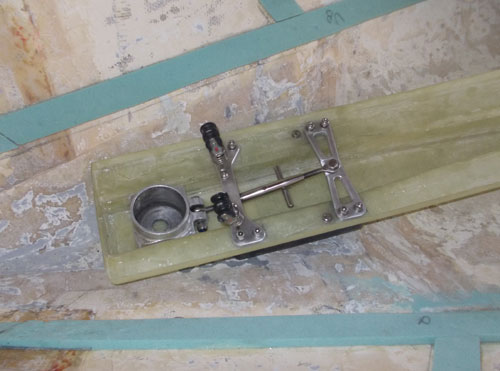 Designed and fabricated a mast heel bearing cup using alloy cup and cross beams, 8mm rigging screw and acetal plastic backing pads.

Designed and built fibreglass mold and fabricated fibreglass layup to suit.
Designed and machined replacement vang end for broken, and unobtainable new, unit.
Adjustable Mast Base and Mast Base Plug for Zephyr Dinghy.

Aluminum, Stainless Steel and Acetal Plastic fitting.
Ronstan 100mm ball bearing sheaved turning block stack, requiring extra 50mm furler line turning block to be added to the stack.

Designed and machined new replacement top stack plate plus top plate to elegantly add furler line turning block.
Sports boat folding mast base with independent halyard access holes for clutter free below deck locking and tail storage. Angled base to suit cabin top slope.
470 Dinghy boom gooseneck fitting with bolted support inside the sail track for added strength.
Starling Dinghy -- Rotating mast gooseneck fitting plus boom inboard and outboard ends.

Machined curved outhaul fairleads in the Acetal boom ends negate the need for exit blocks.
Deck mounted jockey pole deck fittings for those modern aerofoil shaped jockey poles. Low profile, strong and sturdy.
Sport boat gooseneck and vang tangs with backing plates and knuckles.

Bolted fittings, stronger then pop rivets. Available for any mast section.
Scott Plasma Carbon Fibre Racing Bike -- Seat stem extension fitting.
Through deck PBO forestay fitting with provision for a code 0 sail shuttle, down haul control line.