Finn Sailing News
Will post new and interesting Finn stuff here on a regular basis. Comments and dialog most welcome.

But always check out the New Zealand Finn Association web site for the latest national and the International Finn Class web site for world wide Finn news.
2017 Finn Masters
Trekked with 8 fellow Kiwi's to Barbados for the 2017 Finn masters.

In a borrowed Devoti and using a Wilke mast. Let myself down with not adjusting to the conditions and getting a setup with the boat to suit. Boat was fast in the flat patches but I could not "change gear" in the rougher patches and heavier winds.

Met plenty of interesting people in the Finn Masters community and made friends with many. Planning to do better in Denmark in two years time. Unfinished business.
Custom 40mm Main Sheet Pulley
The standard mainsheet pulley for the new boom was too long and caused boom and traveller pulleys to clash when sheeting the boom onto the deck and with the traveller fully outboard.

Designed and built a 40mm mainsheet pulley that hangs just 70mm below the boom.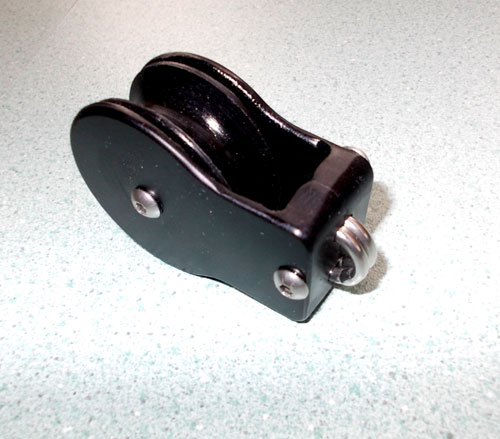 Available for purchase, More information here.

Building A New Finn Boom
Building the new boom started way back in 2009 but it never got finished, hanging in the shed and being used as a straight edge or support structure for other building or repair projects. Constructed from three alloy extrusions. The top out of a single 32x32mm box section and the bottom from two 43x15mm sections, each with a wall thickness of 1mm. Glued together using a two pack, methacrylate type adhesive. Follow the new Finn boom build here.

2015 Finn Gold Cup
I'm in there somewhere amongst the 80 Finns on the start line at Takapuna. 20 years to the day when I did the last Finn World Champs

Sailed consistently into last place every race but one. Enjoyed it immensely despite being sick as a dog with a savage throat infection that required some strong, doctors prescribed, medicine.

Suffered from having too stiff a mast and boat combination in the choppy seas and heavy airs. Spoke to plenty of Finn luminaires and now have a list of ideas on how to soften the bow of the boat.

Follow the 2016 Update to soften the bow of the boat.

Waiuku Yacht Club Sailing Program
Visit the Waiuku Yacht Club Web Site for the sailing program and the latest news.
.