6.3mm Internal Wing Mast Halyard Lock System
Suitable for dinghy masts having an at least 18mm internal depth, in the fore and aft plane, back from the halyard projection line. Can be utilised in both carbon or alloy masts.

Tested and rate to 100kg (220lbs) static load.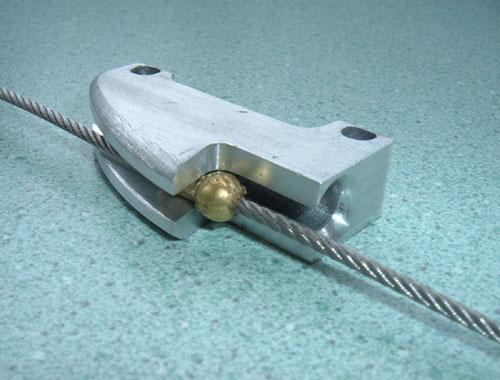 Features

Halyard Lock -- CNC machined from 6061 marine grade aluminium plate. Lock has a 4mm slot and wide 6.8mm return hole.

Halyard --utilises 2mm 7x19 strand high grade flexible stainless steel wire strop rated at 220kg. Tail is manufactured from lightweight 3mm polyester braid. Strop and tail are internally spliced with the braided cover pulled over the spice and wire letting the 4mm thick splice slide though the slot without binding.

Talurit -- Manufactured from rivet grade brass and features a large 6.35mm head (for increased holding power) and a 4mm shank to centralise the talurit in the lock, maintaining even loading on the wire strop.

Shackle -- Standard with either a Wichard 1441 or Ronstan RF633 4mm Bow Shackle, or optionally to customers specifications . Note -- the shackles are tightly crimped by the ferrule and cannot be easily replaced.

Full technical data specifications can be downloaded (right click and "save as" to download)
Pricing (all prices in NZL dollars and exclude GST)

V-Tech_310 -- 6.3mm Internal Wing Mast Halyard Lock ------------------------ $75.00

V-Tech_314 -- 13 metres of 3mm halyard, 2mm s/s strop and 4mm shackle --$100.00
Lock installation guide available for download (right click and "save as" to download)
For supply, contact us directly using the contact details top of page. Ask about our installation service.