Design Desk
The yacht fittings we manufactured and sold in the past are now available free to all as drawings and solid model files. Scroll down through the list of parts below.

Contacts us directly for a DXF drawing or STEP solid model file of any part we have made in the past to enable manufacturing your own parts or have someone manufacture them for you.

Alternatively if you have a specific application that requires a custom designed fitting, contact us directly.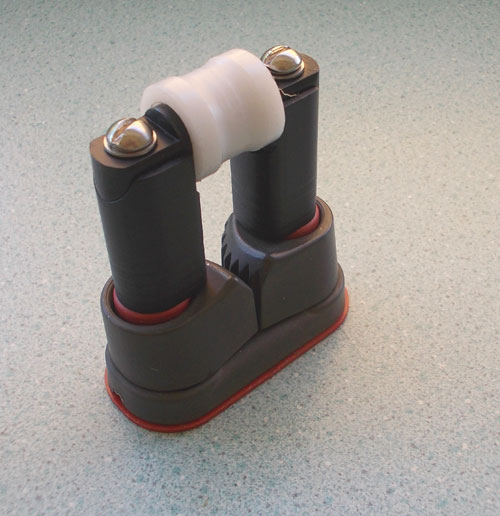 Centre Cleat Mainsheet Roller Fairlead
A 22mm diameter bobbin roller sheave fitting for mounting onto a centre cleating mainsheet swivel block to reduce chafe and friction on mainsheets. Suit standard Harken or Ronstan cam cleat with hole centres at 38mm. Narrow 18mm slot to better guide mainsheet into the cam cleat. High roller position makes uncleating easy and mainsheet trimming, without cleating, effortless. No more high mainsheet resistance, by pulling the mainsheet up againt a static fairlead, when using this bobbin roller mainsheet fairlead.

Only available in DXF file format. Ask for part number V-Tech_368.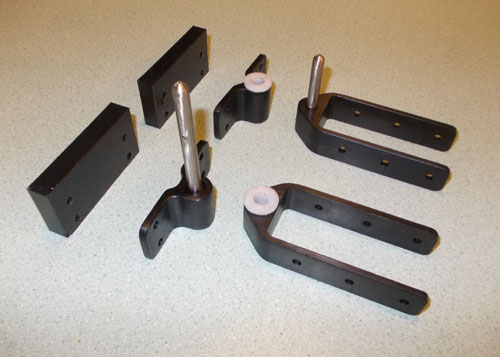 Rudder Gudgeons and Pintles
Slimline design to bring the pintle centreline as close to the hull (if preferred) and rudder as possible.

Standard hole pattern for bolting to the hull. Rudder cheek width can be altered to suit bladew thickness.

Only available in DXF file format. Ask for part number V-Tech_347.
Please call back soon as we complete the list of Yacht Fitting drawings.