Carbon Fibre Spar Repairs and Refurbishment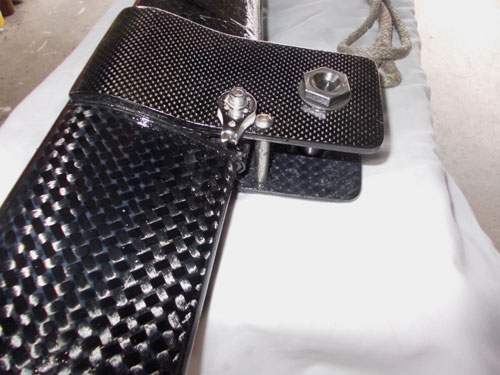 Carbon Fibre has been a real boon to the racing dinghy sailor. It's long lasting properties ensure that the initial higher cost of a spar is easily offset by a long life span.

With long life span comes the need to refurbish the carbon spar to not only look good but to maintain the fittings in working order. Replacement off faded clear coat and new fittings extends the lifspan ever further as will small repairs as required.

Carbon fibre masts can suffer incredible abuse before failure, however they must be repaired as and when problems arise. The motto for carbon spar owners is "eternal vigilance".

Inspect the spars frequently and get damage fixed before there is a break. While broken carbon fibre masts can be repaired, it is better to repair one before they break.
Our Carbon Spar Report and Quotation Service
Before starting any project, a thorough inspect of the spar is undertaken and a written report prepared on how the repairs will be completed together with a summary of the costs involved. Typical example of one of our reports.

The reports are invaluable when claiming insurance cover, nothing beats an independent report, with photographic evidence, from a reputable repair company to best represent an insurance claim.
For a free written quotation - contact us directly using the contact information at the top.
With our ability to create custom components we can manufacture all unique or irreplaceable carbon fibre spar parts as and when required. Post installation of masthead halyard locks a specialty.
Typical carbon Spar Repair (view a typical broken spar repair).
A typical example of what can be seen on a damaged carbon fibre spar. Cracks and paint delamination in high stress areas. This crack is just below the boom fitting and above the deck.

This carbon mast is a Southern Spars built Finn wing mast of 1995 vintage. Even after the cracks was noticed, the mast was in use for over six months in at times 25 knot winds and steep seas.

Replacement value for a Finn wing mast is around NZ$7000. So a repair now is well worthwhile.
The preparation process clearly shows the extend of the damage with a 50mm crack right through the layup. Incredibly this mast did not break.
All fixed with a custom designed layup patch ready for further finishing work.
New boom carrier fabricated, clear finish applied plus a new deck collar machined and glued on. This mast should last another 10 years at least and all for a very modest outlay in repair cost.
For a free written carbon spar repair quotation - contact us directly using the contact information at the top.