Main Sheet Pulley
A soft attach 40mm mainsheet pulley that eliminates the main sheet boom and traveller pulleys from clashing when sheeting the boom onto the deck and with the traveller fully outboard. Just 60mm long, the pulley provides a maximum length from the bottom of the boom of just 70mm (allowing 10mm space to provide 90 degree twsting capability).

Sheave is 16mm wide to handle up to 14mm diameter mainsheets and runs on ball bearings for friction free maximum loading and rotation.

A direct replacement for the 40mm Harken soft attach T2 carbo block (10mm maximum mainsheet diameter) for those sailors wanting to use larger diameter mainsheet.
Part Number V-Tech_358 -- Soft Attach 40mm Mainsheet Block ---- NZ$70.00 (ex GST)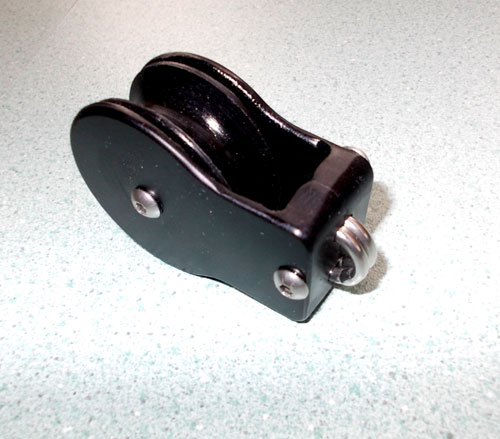 contact us directly using the details at the top.