Harken 144 Swivel Base Packer
An acetal plastic packer suitable to mount a Harken 144 Swivel Base, for the main sheet ratchet block, at the correct height from the cockpit floor to make main sheet cleating easy.

When used in conjunction with a Harken 296 15degree angled riser under the cleat, the mainsheet can be ergonomically cleated and uncleated without effort.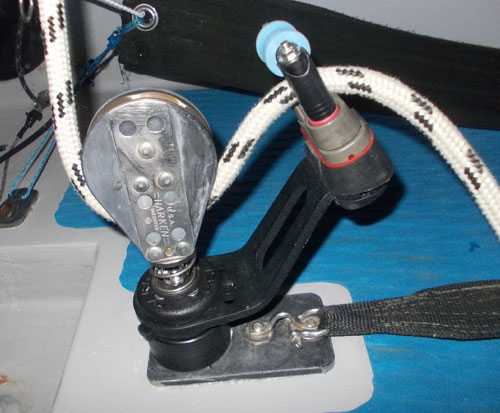 Part Number V-Tech_370 -- Harken 144 Swivel Base Packer ---- NZ$50.00 (ex GST)
Packer is 60mm in diameter and 35mm high. Made from acetal plastic with 20mm deep countersunk mounting holes at 36mm centres to replace the standard harken ball type swivel mount.

5mm full length tapped holes to screw the Harken 144 base directly to the packer.
contact us directly using the details at the top.