8mm Rudder Gudgeons and Pintles
Available as a complete set or as individually components, these custom made gudgeons and pintles are a direct replacement for Finn fittings, used on rudders and hulls, currently.

Slimline design to bring the pintle centreline as close to the hull (if preferred) and rudder as possible.

Solidly built but lightweight, for long lasting and slop free performance.
Part Number V-Tech_347 -- 8mm Rudder Gudgeon & Pintle Set -- NZ$190.00 (ex GST)
Scroll down to view individual gudgeon or pintle part numbers and pricing.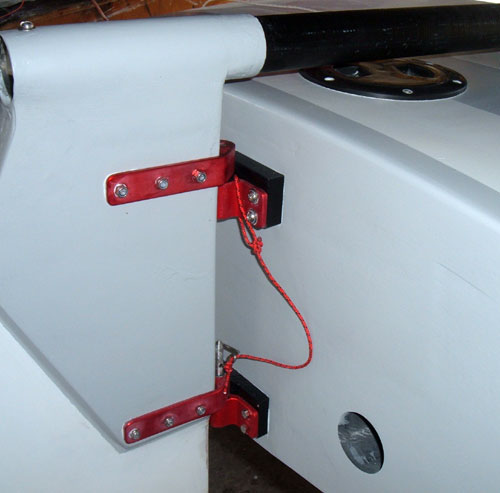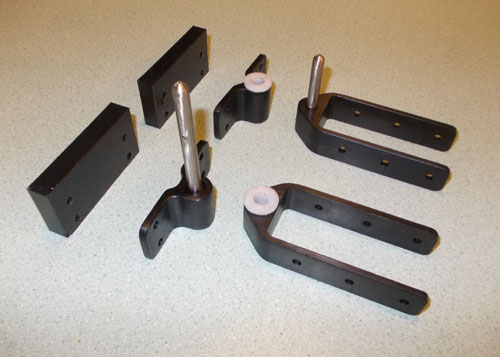 Features
Minimum Pintle To Rudder Length
15mm Top Spacer
13mm Bottom Spacer
4x5mm Transom Mounting Holes
Over height Spacers
Extra Long Bottom Pintle
Bottom Pintle Retaining Pin Hole
Acetal Plastic Bearing Inserts

- Benefits
- Minimise Un-Balanced Rudder Tendency (10mm Rule E3.4.)
- Set Pintle Centreline Maximum Aft (30mm - Rule D9.1.1)
- Set Pintle Centreline Maximum Rake (2mm - Rule D9.1.1)
- Direct Replacement For Existing Fittings
- Prevents Rudder Fouling Transom Flanges Mounting Bolts
- Easier To Slide Rudder On and Off
- Allows Easy Pin Placement To Secure And Remove Rudder
- Long Life and Smooth Operation
Construction
Flanges and Straps
Pins
Inserts
Spacers
- Material
- CNC Machined 6061 Grade Anodised Aluminium
- 8mm Stainless Steel Rod Tapped and Screwed
- Acetal Plastic
- Acetal Plastic
Hole Centres
Hull Flanges
Rudder Straps
-----------
- 4x5mm Holes 57x17mm Rectangular Pettern
- 3x5mm Holes @ 30mm Equal Spacings
-
- 38mm Internally Between 4mm Thick Straps
Height
Rudder Straps
Hull Flanges
Spacers
Clearance
Transom To Pintle Centreline
Pintle Centreline To Rudder
-
- 15mm Minimum To Pintle Centreline (can be padded)
- 10mm From Pintle Centreline
Pin Lengths
Rudder Pintle (upper)
Hull Pintle (lower)
-
- Black Standard - Other Colours and Neutral To Order
Individual Gudgeon and Pintle Fittings
Rudder Gudgeon Fitting Including Insert
Part Number V-Tech_347_RG

NZ$55.00 + GST
Rudder Pintle Fitting (30mm long 8mm pintle)
Part Number V-Tech_347_RP

NZ$55.00 + GST
Hull Gudgeon Fitting (including insert)
Part Number V-Tech_347_HG

NZ$45.00 + GST
Hull Pintle Fitting (60mm long 8mm pintle)
Part Number V-Tech_347_HP

NZ$45.00 + GST
Spacers For Hull Fittings (standard size 15mm top and 13mm bottom) Other sizes made to order.
Part Number V-Tech_347_SP

NZ$25.00 + GST
For supply contact us directly using the details at the top.