My New (Rebuilt) Finn
Not ever having been in a position to buy a new Devoti, I decided to rebuild an old Finn with specifications I think are important in a Finn.
Have a hull shape as close to a Devoti as I could find.
Be built super stiff (want the mast to bend and do the "pumping", not the boat to flex)
Be efficient in transferring the vertical force of the helmsman's weight on the gunnel to the horizontal forces of the sail/mast at the top and bottom mast rings.
Be efficient in transferring the horizontal forces on the centreboard into the hull.
Be efficient at quickly removing water from the cockpit.
Have maximum width, shortest length cockpit.
Take full advantage of the 2005 Finn class rules.
Having run the tape over a number of different boats as the class measurer, the nearest readily available hull in New Zealand that came close to the Devoti shape is the Mk2 Marten.

Maximum beam boat with a dish like shape through stations 3, 4 and 5. As opposed to the Vanguard or Mk3 Marten shape which is minimum beam and more U shaped in section. Boat numbers NZL190 through to NZL224 I think are all Mk2 Martens. Not sure if the Mk2 Marten boats were from the same mould as the Mk1 Martens.

The bow sections on the Mk2 Marten are slightly fuller than the Devoti and probably not desirable, but then "beggars cant be choosers".
Being a one-off project the building materials used were 6mm ply for the stringers and floor, and 4mm for the bulkheads, decks and everything else. Deck stringers and coamings were made from cedar while the new gunnels and thwart were made up from 6mm plywood laid up to the required thicknesses.

The bonus of using plywood is the incredible torsional stiffness gained from using it in tortured curves. Plywood is, if anything, lighter than fibreglass and when bent into curves, is stiffer by a huge margin.  All plywood was cheap ($30.00 per sheet of 4mm) pine construction plywood.  Construction plywood uses marine glue and each piece of ply was double coated in epoxy resin after fabrication and before assembly into the boat.  The plywood will never rot.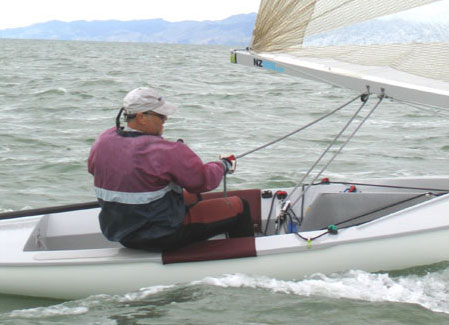 Follow the rebuild from the start.