2015 Update - Part One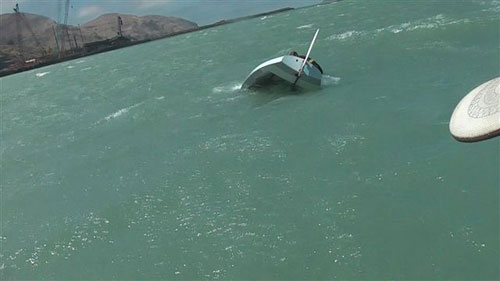 It is very clear we have a major buoyancy problem. On the last run in the last race of 3 on the first day of the South Island Champs, feeling pretty pleased surviving the 25+ snarlers howling down the harbour.

Strayed into the rough bit of the harbour where the inner harbour flows into the channel. Wind against tide resulting in some nasty stand up waves. Thinking, sweet, just catch this last wave and then gybe (or granny) for the final 200 metres to the finish and onto a well earned rum at the clubrooms. The wave unfortunately had no front on it and I literally went bow down straight into the mine.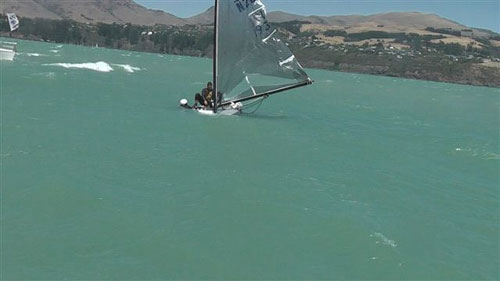 With the help of Matt Coutts we managed to right the boat and with it unable to be sailed or towed forwards due to the flooded bow section, we dropped the sail, removed the rudder and towed it backwards to the ramp. Lesson for rescue boat drivers. Tow bow flooded boats backwards as the water in the boat acts as a rudder. A very easy maneuver. Many thanks to the rescue boat drivers and to Matt Wells for taking charge. Only damage was the loss of a rudder pintle bearing. Thanks to Davy Norris Boat Builders who let me use their lathe to turn up a new one.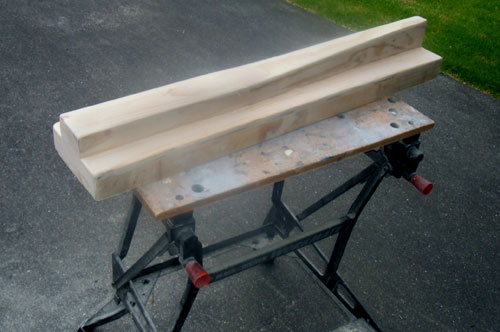 2015 winter project is to modify the bow compartment with a narrow slot to incorporate the hull mast base bearing. Keyhole style like the Mk3 Martens. Leaving the rest of the bow as a sealed buoyancy unit.

Mold for the bottom of the new slot made already. Yippee -- Jigsaw and grinder time again.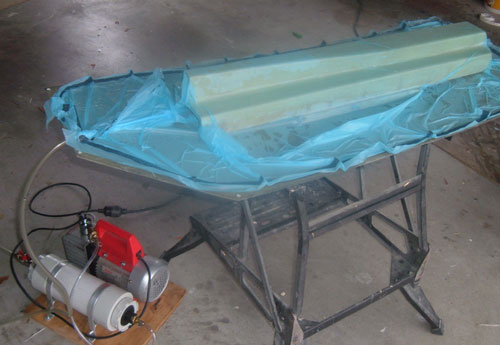 Fabricating the bottom of the slot, simple layup of 2 layers of double bias fibreglass, reinforced with quad axis fibreglass around where the bottom mast bearing cup will be located.

Sides and front of the slot made from a single layer of double bias fibreglass.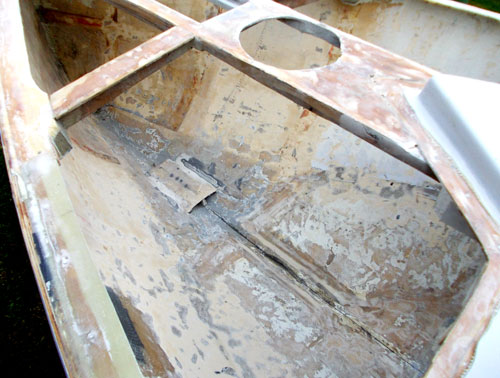 The bow compartment completely stripped. Only the mast base platform left behind for the new bottom section of the slot to sit on.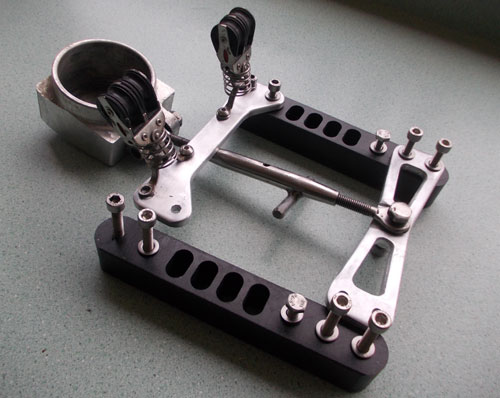 New bottom rock-able mast bearing cup and screw adjuster fitting designed and fabricated.

Underfloor lightweight acetal plastic backing pads and alloy cross beams result in a 700 gram fitting.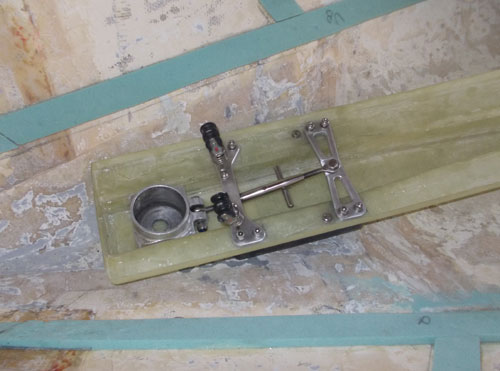 New foam stringers glued in and a dry fit of the bottom slot and mast bearing cup fittings to finalise positioning.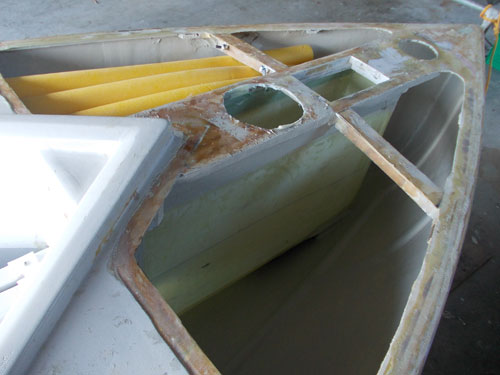 New stringers glassed in, slot completed, front bow compartment epoxy undercoated, all needing to be done is hang starboard flotation rods and clean up the underlying substructure to glue and glass the new fore deck onto.
Onto part two where we have finished photos. .