2013 Update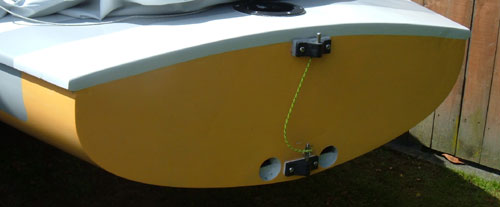 Time to rectify two problems at the back of the boat.

Firstly to replace the existing plastic rudder pintle fittings as they, with age, have become soft and in danger of ripping apart. Their location did not conform with the standardised Finn rudder fittings layout, meaning the couple of times we left the rudder at home, (yes, old age creeps up and we forget things) a spare rudder, borrowed from fellow sailors, could not be utilised.

Secondly to realign the cockpit water dump tubes. They are positioned too low in the transom, allowing water to flow into the cockpit. Too low as well, to have effective flaps to prevent reverse water flow. Partially fixed by damming the bottom half of the tubes but not a good fix. Spent most of the time with sail tape over the holes to fully block them off. Waste of time having the cockpit water dump tubes if they are fully blocked off by sail tape.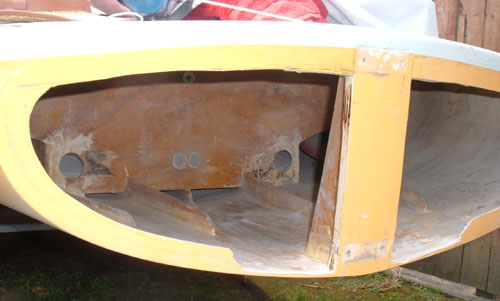 Cut away the transom and removed the two dump tubes. New transom will not be a structural member of the boat so will be replaced by a ` light weight fibreglass panel.

Rudder mounting structure consists of 6mm plywood in a "T" configuration.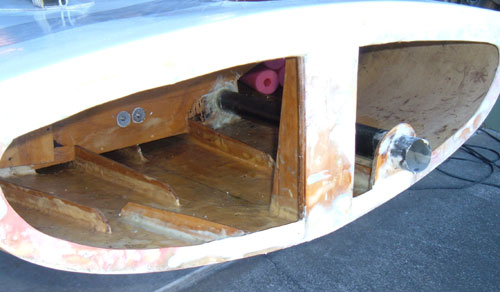 Made the left over transom edges into a ring frame by coving and glassing them onto the hull, aft deck supports and gunnels. Created an upstand from 3mm plywood for the single dump tube to slide into.

Added extra stringers to strengthen and stiffen the bottom of the hull where it meets the new transom ring frame.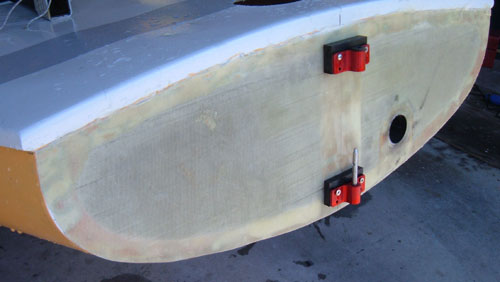 New light weight fibreglass transom panel (double bias fibreglass cloth sandwiched between 100grm woven cloth) layed up and glued on.

Transom rudder fitting locations drilled and fittings attached for rudder trial fit.

All ready for fairing and paint.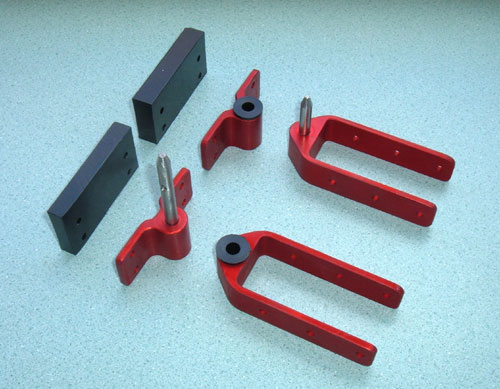 Pintles and Gudgeons are direct equivalent to standard Finn parts.

Slimline design to bring the pintle centreline as close to the transom (if preferred) and rudder as possible.

Contacts us directly for a DXF drawing of this part to enable manufacturing your own parts or have someone manufacture them for you.
All done, ready to go sailing. Note the personal preference to pin the rudder rather than the transom mounted spring clip method.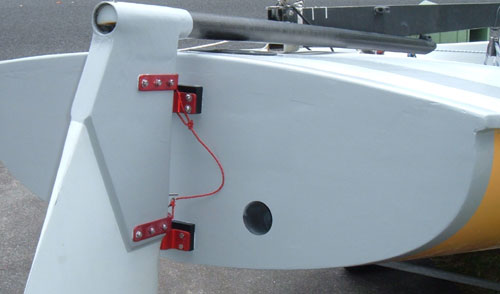 View the 2014 Update.